Phone: 027 4751336 anytime
email: info@aquaticlifestyles.co.nz
Our passion is water gardening
Our goal is to improve the quality of ponds and water features in New Zealand. By working with Mother Nature to create a balanced environment in ponds & water gardens.
The Ecosystem Pond
The Ecosystem Pond is low maintenance, looks completely natural, has healthy clear water and uses no chemicals. Peter Brymer, Director of Aquatic Lifestyles first started researching this in 2009. After spending a year on research and then another two years running a research and development pond Peter had the formula for building beautiful natural looking water gardens that have clean, clear water and are very low maintenance. In November 2012 Peter Brymer started the company Aquatic Lifestyles so that he could introduce other New Zealand pond owners and water gardeners to this wonderful system. Since then Peter has been creating beautiful waterscapes and helping others create and improve their own.
We can supply a large range of quality water garden products. OUR PRODUCTS
Aquatic Lifestyles also custom designs and builds unique formal water features, pondless waterfalls & streams.
Peter Brymer, Managing Director & CEO of Aquatic Lifestyles.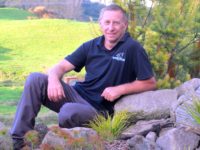 Shop & Displays Closed until 17th March 2018
at 32 Belk Road, Tauranga, New Zealand
(5 minutes from The Lakes Tauranga)
Cellphone: 027 4751336 anytime