Phone: 027 4751336 anytime
email: info@aquaticlifestyles.co.nz
Specialists in design, construction and advice for water gardeners and pond owners throughout New Zealand.
We have the formula for a clean, clear, low maintenance pond.
We can introduce you to a totally new pond design and filter concept, that has been developed and used in the USA for over 20 years. It is so superior to other designs and systems that it's used in almost every ornamental pond in the USA and Canada. We are the only New Zealand company stocking all the products needed to build this type of pond.
By working with Mother Nature and helping her develop a natural ecosystem in your water garden or pond we can create a low maintenance, balanced and beautiful pond in any garden. Our ponds also look completely natural, made with real rock and river pebble with all unnatural products such as pumps, liner, plant baskets etc. completely hidden. The edge work blends the pond naturally into the surrounding landscape.
We also specialise in pondless waterfalls and streams so you can have the natural look and sound of a waterfall or stream in your garden without the pond.
We have our own unique range of products developed for creating ecosystem ponds and water features in New Zealand.
Aquatic Lifestyles is based in Tauranga. We service the North Island and send our products  to anywhere in New Zealand.
FREE local site consultation.
Shop & Displays Closed until 17th March 2018
at 32 Belk Road, Tauranga, New Zealand
(5 minutes from The Lakes Tauranga)
Cellphone: 027 4751336 anytime
Testimonials
Recently Peter Brymer advised us on improving the look and quality of our fish pond in the garden. The first visit involved advice given freely and at no cost.  He returned, as promised, at the end of the winter to completely renovate the pond.  He advised us on plants that would be compatible, and a system that kept the pool clear and algae free.  As a result of his dedication and input our fish are healthy and the pond is absolutely gorgeous to look at and spend time alongside.   Rosemary Wright,  Gateway Co-ordinator, Tauranga Girls' College
We contacted Aquatic Lifestyles and Peter Brymer met with us to listen to our ideas. He provided us with knowledgeable advice and suggested design improvements. Peter completed the job for the quoted priced, on time and with an extremely high standard of workmanship. We are thrilled with our new water feature and recommend Peter and Aquatic Lifestyles to anybody considering a water feature for their property. Peter was very professional and a visit to his shop on Belk Road is definitely worthwhile.    Steve and Shalini Cordery
Best ponds to enhance the look of your garden landscape design, Peter can do whatever you want and is very clever at what he does. He is helpful and has really good ideas, he solved out our problem with what was going wrong with our pond at home and now it is crystal clear.     Adrienne Gray
Hi Peter, Just to let you know that we are delighted with our new pond. Following your advice and using your great video instructions we have landed up with something that exceeded our expectations.     Kind Regards, Debbie and Andrew, Hamilton
Hello Peter. Just wanted you to know how much we are enjoying our pond. Each day we find ourselves out there just staring at it. We do have some fish but they hide most of the time. Initially they were getting into the filter but they must be fairly intelligent cos they have stopped that now. The plants are all looking healthy and happy too.   Regards, Maggie Bentley
"Peter, thanks so much for turning our dream of a large pond into a reality. From the moment we moved here in December 2015, we pictured a big pond in the centre of our flat grassy section. The weekends of mowing the lawn for hours increased our desire for a pond to add beauty to our landscape and reduce our mowing time. We took a while to find the perfect person to lead us through this job, so discovering that you could help us to achieve what we had visualised was a big relief. Less than two months  later, here we are with this gorgeous pond off our deck. It was excellent to have the chance to be part of creating the pond as well. I learned a lot about ponds and fish, and probably increased my fitness with all the rock lifting and soil shifting! We are more than happy with the finished product and we are also very happy to recommend you and your pond making skills to anyone who would like a landscape with a difference. If you have ever thought of having a pond, don't hesitate to contact Peter. He listened to what we wanted, was happy for us to help him to create the pond and delivered on his promises."  Sharon and Alan Holt
Peter knows his stuff, our pond is amazing. If you want something that looks and performs like it was created by nature, he's your man.   Ralph & Rachel Holah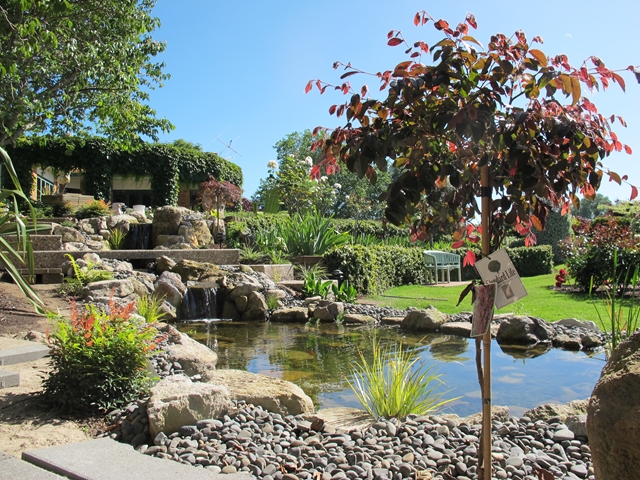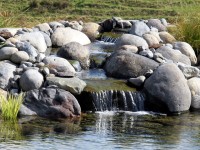 We service the whole North Island.
We send our products to anywhere in New Zealand.